Each type of patio door has its own strengths and downsides, but sliding doors are becoming more mainstream. The classic French door system has never lost its shine, but discerning homeowners are beginning to take notice of its gliding counterparts for good reason.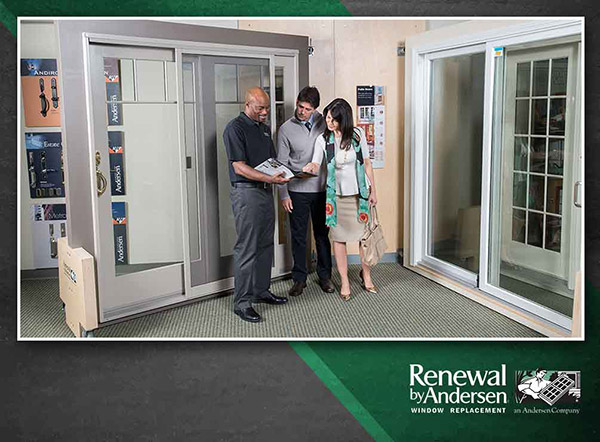 Today, Renewal by Andersen® of Wyoming lists the seven biggest selling 536of sliding patio doors:
1. They Save Space
Unlike hinged units, they open and close without occupying any adjacent space. When floor area is a commodity, installing a door system that requires no room to operate is a great advantage. You can use the space you saved to place more furniture or widen the pathway.
2. They Mesh With Any Home Design
Generally, gliding patio doors sport a contemporary design with sleek, narrow framing. But, they are available with traditional construction, too. Renewal by Andersen's sliding French door system is the best example. It features wide-board stiles and rails joined by mortises and tenons. Gliding on Andersen® track rollers, it helps economize on space while blending in with classic home designs.
3. They Capture Panoramic Views
Sliding door systems always consist of at least two panels, doubling the glass area of a typical door. Usually wider than they're taller, they can frame an expansive view of the outside world. This ties Nature with your interior, creates an illusion of space and harnesses an abundant supply of free light and heat from the sun.
4. They Operate Effortlessly
When not locked, gliding doors only need a gentle nudge to open and close. If you observe proper maintenance to prevent dirt buildup, expect them to move smoothly for a long period.
5. They Experience Fewer Mechanical Problems
Unlike swinging units that force hinges to carry their weight 24/7, sliding patio doors are friendlier to their hardware. Without experiencing great stress, rollers typically have longer service lives than hinges.
6. They Minimize Unwanted Drafts
Equipped with continuous weatherstripping, the interlocking design of the staggered sliding door panels keeps air infiltration to a minimum. Combined with high-performance glass, expect to reap great energy savings month after month.
7. They Are Easy to Adjust
House settling can cause doors to not hang correctly, but sliding units are usually easy to adjust when the foundation shifts. If you wish to overcome future structural challenges with less stress, investing in a gliding door system is a logical proposition.
Renewal by Andersen of Wyoming offers three distinctive but equally impressive sliding door models. Call us at (307) 472-2199, or contact us here today to schedule your FREE, in-home consultation, to learn more about our solutions and discuss your patio door replacement project. We proudly serve homeowners in Laramie, Douglas, Cheyenne and nearby Wyoming communities.