Improve Your View with Renewal by Andersen® Picture Windows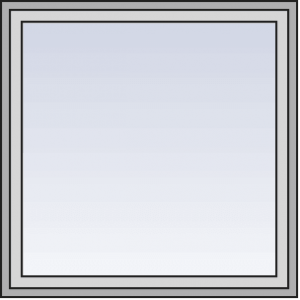 Our picture windows give you a wider view, thanks to signature materials by Renewal by Andersen® of Wyoming. Improve your outlook on the world with new windows. Thanks to high-quality windows, you get a more beautiful and expansive view highlighted by products that will last for decades to come.
Sure, everyone offers superior windows, but unless they're Renewal by Andersen windows, you're not getting the best product possible. That's due to unique construction of our picture window frames made from Fibrex® frame material, one of the strongest and most durable you can possibly get. Let our team install a picture window with a narrower frame and larger glass area so you don't miss out on the views.
Less Energy Use = More Savings
Even though our windows have a larger glass area and less frame, we still boast high energy efficiency in our products. We are happy to say every one of our replacement windows are available with our High Performance™ Low-E4® SmartSun™ glass — the most energy efficient glass we have ever offered, at 70% more energy efficient in summer and 45% more energy efficient in winter as compared to ordinary dual panel glass.* Our special SmartSun™ glass coating option can offer even better performance in summer conditions often found in Wyoming, with less fading of your interior spaces.
We Give you Options
When it comes to replacement windows, we like to offer you a wide selection so you have lots to choose from. You'll appreciate our variety of exterior frame colors and interior finishes that apply to all our picture windows. Lean on our design team's help to choose the window styles that best complement your style. From frames to finishes, we want your windows to look gorgeous on the inside and out. Don't worry: every picture window installed by Renewal by Andersen of Wyoming is custom sized just for you.
Consider this: Renewal by Andersen of Wyoming's picture windows are protected by one of the strongest window and door replacement limited warranties you will ever find.**
Picture Replacement Windows in Wyoming: Get Your Free Estimate
When you're ready for better windows, call Renewal by Andersen of Wyoming today at (307) 472-2199 or simply complete our quote form online. If you want to see the many styles we offer, you're welcome to visit us at (307) 472-2199 or come by our headquarters at 6647 Wildcat Rd Evansville, WY 82636. We are available Mon – Fri – 8:30am – 5pm, Saturday by appointment only, closed Sunday.
*Values are based on comparison of Renewal by Andersen® double-hung inserted window SHGC to the SHGC for clear dual pane glass non-metal frame default values from the 2006 and 2009 International Energy Conservation Code.
**See the Renewal by Andersen® 20/2/10 limited warranty for details.
"Renewal by Andersen" and all other marks where denoted are trademarks of Andersen Corporation. ©2015 Andersen Corporation. All rights reserved.