Bay or Bow Replacement Windows Increase Your Space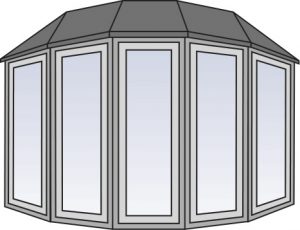 Get more depth out of your interior by opting for bay and bow windows from Renewal by Andersen® of Wyoming for increased beauty and more extensive glass area. A bay or bow window can really open up your living space by giving you a panoramic view of the outdoors. We have lots of eye-catching features that make bay and bow windows the ideal choice for improving the exterior and interior appearance of your Wyoming home. Make us your go-to window contractor in Wyoming.
Boost Your Home's Aesthetics
Sometimes all it takes to improve the look of your house is to put in new windows – specifically gorgeous bay or bow windows. You'll boost the value and curb appeal of the home with beautiful accent windows that extend outward for a more expansive outdoor view. These are the best option if you want more natural illumination. Both windows look similar but they actually are quite different in many ways.
Bow Windows: Smooth Curves
Punctuated by three or more tall window frames, bow windows result in a smooth curve that pushes outward from the exterior walls of the house. There are many styles and trims available, which our experienced team can help you with. Choose from casement windows, double hung windows, or single hung windows to achieve the look you want.
Bay Windows: A Sharp Look
Our bay windows are a little different in that they are made up of three to four window panels arranged in a linear pattern, also pushing out from the exterior walls of your house. You can easily incorporate a peaceful window seat on the interior, or a lovely shelving system that can hold all your cherished photos and collectibles. You can mix and match styles, such as a large central picture window with casements on either side.
You Get Quality and Energy Efficiency with our Windows
All Renewal by Andersen replacement windows feature our exclusive Fibrex® frame material that's rigid and durable – even stronger than wood, vinyl or aluminum frames! This gives you less of a visually-impairing frame width with more glass to see through.
Renewal by Andersen's High Performance™ Low-E4® SmartSun™ glass is the most energy efficient glass we have ever offered, at 70% more energy efficient in summer and 45% more energy efficient in winter as compared to ordinary dual panel glass.* Go with SmartSun™ coating as well to prevent infiltration of harmful UV rays that cause fading to your carpets, drapes and furniture.
In addition, you get peace of mind knowing that each bay and boy window installed by Renewal by Andersen of Wyoming is protected by one of the strongest window and door replacement limited warranties you will ever find.**
A Free Quote Puts You One Step Closer to New Windows in Laramie
Get in touch with the best when you need an estimate on affordable, beautiful Renewal by Andersen of Wyoming bow and bay windows. We can be reached at (307) 472-2199 or you can come into our showroom at 6647 Wildcat Rd Evansville, WY 82636 to browse our selection. We are here to serve you Mon – Fri – 8:30am – 5pm, Saturday by appointment, closed Sunday. Alternatively, take a moment to fill out our online quote request form.
*Values are based on comparison of Renewal by Andersen® double-hung inserted window SHGC to the SHGC for clear dual pane glass non-metal frame default values from the 2006 and 2009 International Energy Conservation Code.
**See the Renewal by Andersen® 20/2/10 limited warranty for details.
"Renewal by Andersen" and all other marks where denoted are trademarks of Andersen Corporation. ©2015 Andersen Corporation. All rights reserved.