Double Hung Windows in Gillette and Beyond: Tradition Meets Modern Style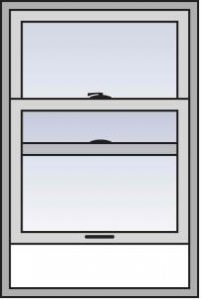 Renewal by Andersen® double hung replacement windows have a classic, elegant style with a modern spin, making for a traditional design featuring advanced materials. A common choice for windows, our double hung windows give you so much more than simple wooden, vinyl, windows or aluminum models. Instead of outdated solutions like most window companies provide these days, we offer you the peace of mind that comes with advanced Renewal by Andersen double hung replacement windows for Wyoming homeowners.
Energy Efficiency is #1
We put energy savings first. Renewal by Andersen's High Performance™ Low-E4® SmartSun™ glass is the most energy efficient glass we have ever offered, at 70% more energy efficient in summer and 45% more energy efficient in winter as compared to ordinary dual panel glass.* But there's more: our one-of-a-kind Fibrex® frame material outperforms wood, vinyl and even steel, believe it or not!
With energy-saving High Performance™ Low-E4® glass and Fibrex frame materials, you get a double advantage in that they are both smart investments for your home. Plus, we give you one of the strongest window and door replacement limited warranties you will ever find.**
Curb Appeal: Check!
With many styles in complementary colors and finishes, you receive a custom fit that matches the specifications of your home. It's time to replace your old double hung windows with new ones, but stay away from sub-par materials like wood, vinyl or aluminum from the discount big box stores. We are your industry leader in energy efficiency, durability and long-lasting value, so choose Renewal by Andersen of Wyoming for window replacement in Wyoming and the Nebraska panhandle.
Obtain a FREE Quote on Double Hung Windows Now
When your home needs a makeover, call Renewal by Andersen of Wyoming at (307) 472-2199 to talk about your double hung replacement window plans, or take a minute to fill out our convenient online quote request form. Based at 6647 Wildcat Rd Evansville, WY 82636, you can visit us Mon – Fri – 8:30am – 5pm, Saturday by appointment only, closed Sunday.
*Values are based on comparison of Renewal by Andersen® double-hung inserted window SHGC to the SHGC for clear dual pane glass non-metal frame default values from the 2006 and 2009 International Energy Conservation Code.
**See the Renewal by Andersen® 20/2/10 limited warranty for details.
"Renewal by Andersen" and all other marks where denoted are trademarks of Andersen Corporation. ©2015 Andersen Corporation. All rights reserved.