New Patio Doors can Make all the Difference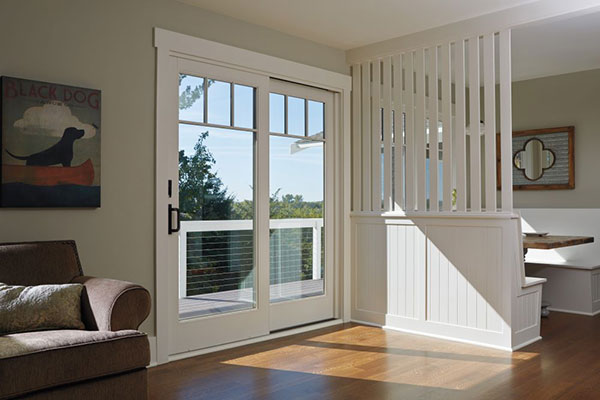 Why not incorporate new sliding patio doors from Renewal by Andersen® of Wyoming? They will not only transform the look of your home but the function too. From sliding to hinged doors, we have the options you're craving. Our specialty is to install quality products at great prices, especially when it comes to patio doors. You will love the transformation in aesthetics and energy efficiency that you get when you invite our team into your home to work our magic. Sit down with our door consultants to select the perfect door for your needs. It's our job to custom measure, manufacture and fit doors that are a perfect match to your home, featuring a weather tight seal for long-lasting energy efficiency and beauty.
Reduce Energy Loss
If you're looking to slash your energy bills, putting in new sliding patio doors is the way to do it. Did you know that 30% of a home's energy (heated or cooled air) escapes through windows and doors? It's true, and our windows can cut down on that wasted energy.
Of course, you have many options in materials for your new doors, such as wood, vinyl, or aluminum. However, those materials are notorious for warping, leaking, pitting and sagging over the years, posing more maintenance hassles than you care to worry about. They also cause unnecessary energy loss. With Andersen's patio doors, you get a product that's built with our exclusive Fibrex® frame material coupled with High-Performance™ Low-E® glass. A strong thermal barrier works to lock heat and cold in. Renewal by Andersen's High Performance™ Low-E4® SmartSun™ glass is the most energy efficient glass we have ever offered, at 70% more energy efficient in summer and 45% more energy efficient in winter as compared to ordinary dual panel glass.*
Elegance = Beauty and Functionality
Fibrex is a great insulator, to be sure, but it also does much more than that. Just like vinyl is low maintenance, Fibrex is also easy to clean and maintain over the years – unlike wood that falls victim to rotting and infestation. The bonus is you get the natural look of wood but you don't have to worry about cracking, rotting or corroding. We offer you many exterior colors, interior finishes, hardware options and more to select from, so you always have choices. The result is a smooth-operating gliding or hinged door model you can rely on. All the durable patio doors we install automatically come with the strongest window and door replacement limited warranties you will ever find.** Of all the window companies in Wyoming, Renewal by Andersen proves itself time and time again.
Need New Doors in Wyoming and the Nebraska panhandle? We Want to Give You a Free Quote
Plan your budget with a free in-home estimate by Renewal by Andersen of Wyoming. Call us at (307) 472-2199 or fill out a convenient online quote request form. We are based at 6647 Wildcat Rd Evansville, WY 82636, with hours Mon – Fri – 8:30am – 5pm, Saturday by appointment only, closed Sunday.
*Values are based on comparison of Renewal by Andersen® double-hung inserted window SHGC to the SHGC for clear dual pane glass non-metal frame default values from the 2006 and 2009 International Energy Conservation Code.
**See the Renewal by Andersen® 20/2/10 limited warranty for details.
"Renewal by Andersen" and all other marks where denoted are trademarks of Andersen Corporation. ©2015 Andersen Corporation. All rights reserved.