A bay window is a combination of three or four smaller windows, allowing for both function and beauty. Renewal by Andersen® of Wyoming takes a look at the window styles that are best combined to form bay windows.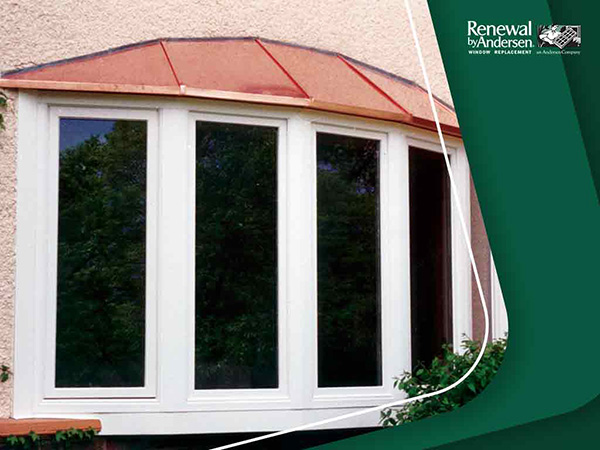 The Elements of a Bay Window
Bay windows are built with one or two large central windows, flanked by two smaller ones. The resulting window projects from the exterior wall, creating a space – or a bay to be precise – that can be used as a window seat, additional storage or a display area.
A typical bay window features fixed central windows to maximize the immediate view. The side windows are positioned at an angle (forming a trapezoidal shape), but can also be perpendicular to the central windows. Side windows are usually operable windows in order to allow ventilation. It should be noted that bow windows are similar in purpose to bay windows, except that they have several individual windows of the same size that form a bowed shape.
Window Styles
Picture Windows — Picture windows are fixed windows. This means they lack operable sashes, with the glass panels installed directly onto the frame. Picture windows are designed primarily for viewing with the window frame acting as a picture frame, hence the name. It is the most energy-efficient window style, thanks to its lack of moving parts. As a standalone window, it won't provide ventilation. But as part of a bay window, the other windows can be opened for this purpose.
Double-Hung Windows — The side windows on a bay window tend to be taller than they are wide. Double-hung windows are perfect as side windows, but can also be installed as one or two central windows.
Casement Windows — One of the greatest benefits of casement windows is that 100% of the window area can be opened, which make them perfect for installation in large rooms. Their sashes sit flush on the window frame when closed, which make them the most energy-efficient operable window style. Choose casement windows if your home happens to be surrounded by a panoramic view.
Renewal by Andersen of Wyoming offers custom-built, energy-efficient window replacement units and can build any window combination for your bay windows. Give us a call at (307) 472-2199, or fill out our contact form. We serve clients in Casper, Laramie and Cheyenne, WY.