One of the reasons homeowners turn to Renewal by Andersen® of Wyoming is our superior replacement windows. Each one features our exclusive Fibrex® frames that combine the best features of beautiful, energy-efficient wood and low-maintenance vinyl. This is why we are happy to recommend it to homeowners looking to make the most of their window replacement. Here's how Fibrex compares to other materials on the market: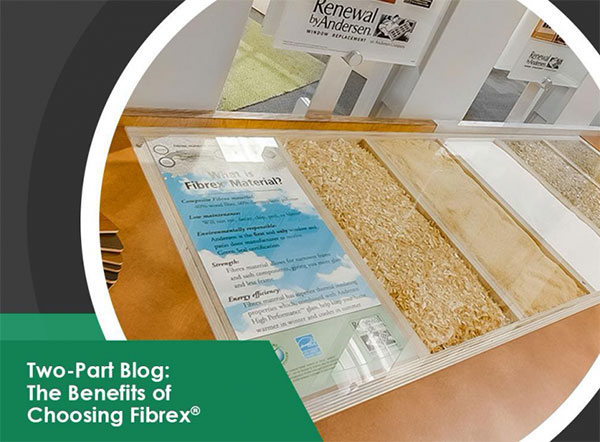 Superior Durability
Classic beauty and natural insulating properties make wood a favorite among homeowners. Without the proper chemical treatments, however, it can be susceptible to moisture and insect damage. Fibrex, on the other hand, offers the same strength, insulation and stability without the usual concerns of wood. This means our Fibrex frames are the ideal choice for your windows even in the most extreme weather conditions. They are guaranteed to not crack, pit or corrode for years.
Do you prefer a sliding window for your replacement? Thanks to Fibrex, we can offer windows in a wide range of sizes and shapes to complement a variety of home styles. Its excellent strength also allows us to create windows with narrower frames and broader glass spaces, giving you more sunlight and expansive views.
Energy Efficiency
Energy efficiency is becoming a great concern among homeowners, especially during winter. Our Fibrex frames, when paired with our High-Performance™ Low-E4® glass, can help boost your home's comfort during the cold season. This reduces your need for interior heating, leading to lower energy bills.
Low Maintenance Needs
A bay window and other large window styles add a unique grandness and elegance to your home. To keep the beauty and condition of your windows intact, you have to provide them with the necessary care and maintenance that the framing material requires, resulting in additional expenses. Our Fibrex material frames have the same low-maintenance properties of vinyl, allowing it to retain its appearance despite years of exposure with very minimal work required of you.
Another factor that gives Fibrex its edge among the other materials on the market is our strong warranty. This provides you with up to 10 years of protection for your investment. Turn to Renewal by Andersen of Wyoming for all your window replacement needs. Call us today at (307) 472-2199 to schedule a free consultation.
We serve Casper, Cheyenne, Laramie and the surrounding Wyoming areas. Be sure to check out the first installment of this two-part blog to learn why it's important to choose the right material for your window frame.