Condensation is a major concern, especially in high-moisture areas like the kitchen and the bathroom. Without ventilating windows, there's no way to send moist indoor air naturally out of the room.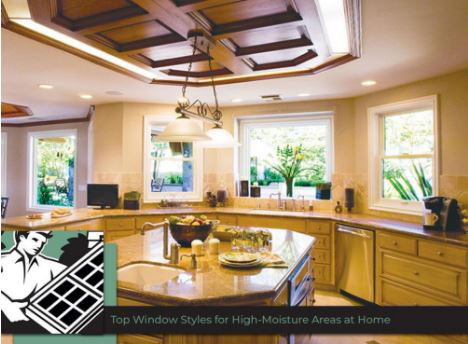 But then again, operating windows are not only necessary in places that generate the most moisture. Every corner of your home must have a way to admit cool air to keep your interior dry and safe from water damage.
Renewal by Andersen® of Wyoming discusses the window styles you should consider to help reduce indoor moisture:
Bay or Bow Window
Projecting windows are the best in increasing natural ventilation because they comprise multiple glass panels. Instead of enjoying nice breezes from one direction, bay and bow windows can capitalize on the wind from at least two. To optimize the airflow within the room, it's best to have casement windows flanking them.
Casement Window
Of all operating units, the casement window is the best at controlling and directing ventilation. Since it has a single sash only, opening it allows most of the opening to dissipate the heat and breathe out moisture. If you have two casements installed on opposite sides of the house, you could maximize the benefit of cross-ventilation.
Sliding Window
Sliding windows are always wide no matter how short the walls are. Although they usually have staggered sashes, gliding windows can utilize up to 50% of the broad opening for ventilation.
Double Hung Window
While double hung windows can admit as much air as casement and sliding windows can, they don't need external winds to provide natural ventilation. When both sashes are opened halfway, they use the stratified airflow within the room to replace moist indoor air with drier outdoor air.
Allow Renewal by Andersen of Wyoming to help you pick the perfect ventilation windows for your rooms and keep condensation to a minimum. Contact us today to schedule your FREE, in-home consultation in Douglas, Cheyenne or Gillette, WY, and tell us about your needs.