Bathrooms are regarded by more than a few homeowners as nothing more than a space where they can bathe, among other things. But with the right kind of windows, you can change the way you use your bathroom and transform it into your own private oasis amid the hustle and bustle of your daily activities. Here are our recommended window styles and how they can enhance your bathroom: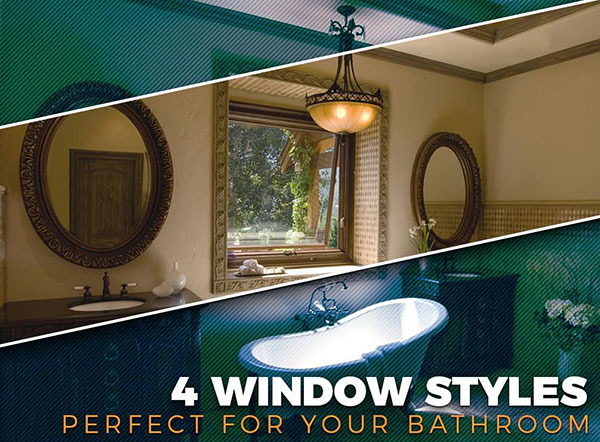 Large windows – If you have an upper-story bathroom or it is sited where privacy isn't a concern, then large replacement windows are the best way to enjoy a relaxing bath while taking advantage of a nice view. You can also choose from our obscured glass options if you wish to add privacy without sacrificing the natural light.

Porthole windows – Porthole windows are circular windows installed in ships, but they have since passed into popular use to describe circular windows. They are ideal for small bathrooms as a focal point, and like clerestory windows, can provide ample natural lighting when installed up high. Renewal by Andersen® can customize specialty replacement windows to fit your home, including octagonal, triangular and, of course, circular windows.

Bay windows – Bay windows don't readily come to mind when considering bathroom windows – in fact casement and double hung windows are the more common choice. The truth is, bay windows provide the most effective ventilation and natural light. The bay space can also be used for seating while the seat bottom can be used for storing bathroom supplies.

Narrow windows – It may sound unusual, but narrow windows are actually effective for small bathrooms. A row of narrow horizontal windows at the top of a bathroom wall can provide equal measures of natural lighting and privacy, and if you choose operable windows like casement or awning windows, they can also provide ventilation. This frees wall space for fixtures, plumbing and bathroom decor.
If you would like to explore bathroom window styles, from the casement window to the specialty window, call Renewal by Andersen of Wyoming today at (307) 472-2199, or fill out our contact form to schedule a free, no-hassle quote. We serve many areas in and near Cheyenne, Gillette, and Douglas, WY.