Renewal by Andersen® of Wyoming offers an impressive selection of patio door systems to suit the unique functional and aesthetic needs of different home styles. Here's a summary of what's special about our door models: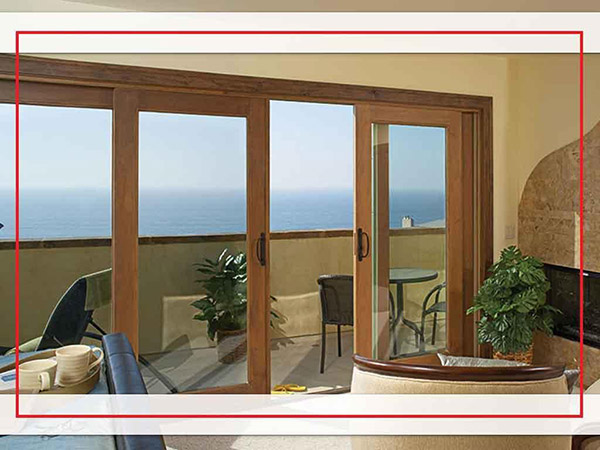 Frenchwood® Hinged Patio Door
The Frenchwood® hinged patio door system is our own interpretation of the iconic French door. Out of all our patio doors, it's the only one that swings either inward or outward. Hinged on the sides, our Frenchwood swinging patio doors provide generous access, making it easy to move people and furniture into and out of your home.
Made using the classic wide-board rail and stile construction, and mortise-and-tenon joinery, our Frenchwood doors can mesh with any traditional homes. Their visual elements bring back the Old World charm of centuries-old architectural styles, but their innovative components highlight the latest advances in design.
Frenchwood® Gliding Patio Door
If you want French doors that slide, our Frenchwood® gliding patio door system is for you. Its panels glide smoothly on Andersen® track rollers, allowing them to operate easily even in the toughest climates. Reinforced with continuous weatherstripping, its interlocking panels help keep the interior dirt- and draft-free.
Narroline® Gliding Patio Door
Perfect for contemporary home designs, the thin framing of our Narroline® gliding door system makes it practically invisible. It features a large glass area to catch as much sun as it can for daylighting and passive solar heating. With its real pine interior, it can complement existing wood elements and enrich your interior home design.
Perma-Shield® Gliding Patio Door
Much like our other sliding patio doors, our Perma-Shield® gliding door system comes with a reach-out locking mechanism for maximum security and weathertightness. It shares the Narroline's sleek and narrow frames, and dual ball-bearing rollers with self-contained leveling adjusters. Clad with a vinyl sheath, its rigid wood panels stay in good shape with minimal maintenance.
Discover the numerous ways you can customize Renewal by Andersen of Wyoming's patio doors. Call us at (307) 472-2199 now to schedule your FREE, in-home consultation at your most convenient date and time. We serve homeowners in Laramie, Douglas and Cheyenne, WY, as well as those in the surrounding communities.