Grilles may seem like a minor component, but in certain architectural styles, the right grilles add a touch of authenticity to patio doors. Renewal by Andersen® of Wyoming lists the grille styles that we offer and the home styles that they are seen in.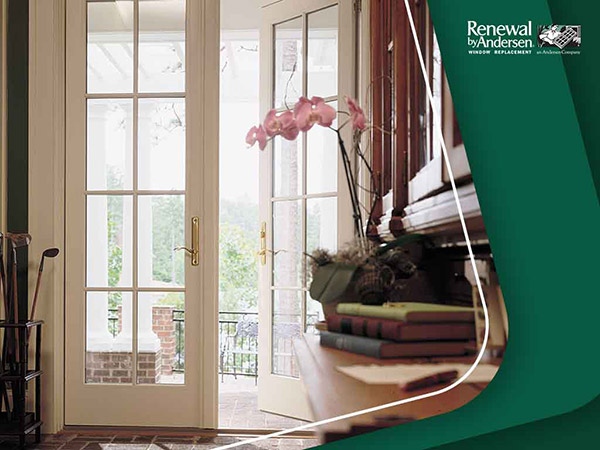 Colonial — Colonial style grilles are perhaps the most familiar window and patio door grille design, with its symmetrical grid. For many people, this is the first thing that comes to mind when talking about French doors. Colonial grilles are based on the architectural style of the same name. Certain home styles have a varying number of "lights"—the sections of glass between grilles—for a more unique look. For example, Cape Cod architecture typically has more lights, and therefore a tighter grid pattern.
Prairie — Prairie style grilles are based on the home style of the same name, popularized by Frank Lloyd Wright. It features an asymmetrical nine-light layout. The oversized central light serves as the viewing area and is "framed" by the slimmer lights all around, forming squares at the corners. Prairie-style patio doors generally feature more elaborate designs that incorporate stained glass, which works best on French doors. The Queen Anne grille style is a similar style but features a series of square lights surrounding the central light.
Diamond — Diamond-pattern grilles are made of diagonal grilles that criss-cross over the glass panel. While not an ideal style for capturing a view, diamond-pattern grilles add a sense of mystery that works well with traditional English architectural styles like Tudor and Victorian.
Fractional — Fractional grilles occupy the upper portion of a door or window, leaving the lower portion as the viewing area. Grilles that occupy about one-fifth of the window area are called short fractional, while taller ones that occupy up to half are called tall fractional. Fractional grilles are often seen on Craftsman Bungalow homes.
Renewal by Andersen® of Wyoming is your leading provider of French doors and sliding patio doors. Give us a call at (307) 472-2199 or fill out our contact form. We serve clients in Douglas, Cheyenne, and Laramie, WY.