Patio doors are more than just a means of easy access between your yard and patio. They let natural light in, they provide nice views, and most importantly, they bridge your indoor and outdoor spaces. So, if you're looking into buying new patio doors, here are some ways to ensure that they accomplish the desired effect.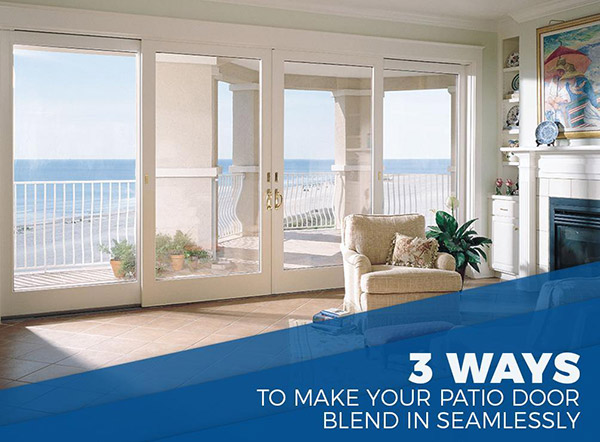 Bigger Glass Areas
A simple yet effective way to bridge your indoor and outdoor spaces is to choose patio doors with bigger glass areas. The less visually obstructive the door is, the more it will feel like your patio is a part of your interior space and vice versa.
If you're worried whether the increased glass areas would fade your furniture and other fabrics, our High-Performance™ Low-E4® glass options block harmful ultraviolet (UV) and infrared rays while letting through as much light as clear glass does. You can have the widest sliding patio doors your home can accommodate, and it wouldn't have a bad effect on your interior.
Matching Finishes
Renewal by Andersen® patio doors are available with different interior and exterior finishes. In the case of our Frenchwood® doors, we offer additional pine, oak and maple finishes that can be stained to match your existing furniture, trim and flooring. This allows a consistent look all over your interior that makes it look like the patio doors have always been there, emphasizing your patio from the inside. Likewise, our neutral exterior finishes match with most trim colors, creating the same effect.
Furniture Placement
Furniture placement plays a huge role in how your interior space connects to your patio. The idea is that instead of treating the interior and the patio as two separate spaces, you should plan your furniture placement as if it's one space with the patio door positioned somewhere in between. No seats should be facing away from the patio door, and nothing should be blocking access from the patio door to the center of the room. Consider setting up the TV in another part of the house to reinforce the patio door as the main focal point of this area.
If you would like to explore more ideas on how patio doors can bridge your interior and exterior spaces, call Renewal by Andersen® of Wyoming today at (307) 472-2199, or fill out our contact form to schedule a free, no-hassle quote. We serve many areas in and near Douglas, Cheyenne and Laramie, WY.
nbsp