There are a lot of replacement window options available in the market today, each one varying in operation type, design, materials and energy efficiency features. What's the right one for you? The first step in finding the right replacement windows for you is getting to know your options thoroughly.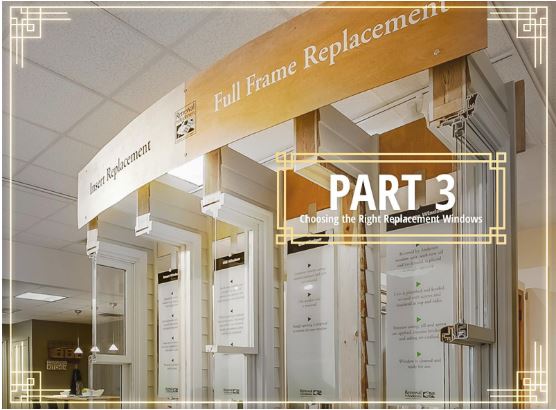 Double-Hung –

A favorite among American homes, double-hung windows feature two operable sashes. Opening both sashes at the same time offers effective ventilation, letting in cool, fresh air from the bottom and lets out warm, stale air from the top.

Casement –

This type of window opens with a simple turn of a crank, making them ideal over hard-to-reach areas and rooms at the second floor or higher. They also let in maximum light and views and can direct breezes into the home for natural ventilation. When closed, they shut completely sealed, making them one of the most energy-efficient window options based on design.

Sliding –

With sashes that slide along a horizontal track, sliding windows are best for modern and contemporary homes that will benefit from unobstructed glass areas and sleek designs.

Bay and Bow –

Bay windows have three panels while bow windows typically have four to six, combining different window styles for optimum function. While ideal for traditional homes, bay and bow windows are eye-catching, jutting out of exterior walls, which also creates additional space indoors.

Picture –

Picture windows are fixed windows, meaning they are inoperable. They may not help with natural ventilation in a home but they are the best in taking in outdoor views, thanks to their expansive glass areas and straightforward design. As they are inoperable, they don't have moving parts, limiting seams through which air leakage can occur. This makes picture windows the most energy-efficient window option based on design.

Specialty –

Also known as custom windows, specialty windows can be made into any shape or size, making them suitable for unique requirements and applications.
Window Frame and Glass Considerations
Aside from choosing based on window design, you should also carefully consider frame and glass options from a reputable window company. Where do you start? Keep in mind that a window frame has to offer:
Durability

Ease of maintenance

Aesthetic appeal

Longevity
Among today's window framing options, Renewal by Andersen®'s Fibrex® meets all the qualities listed above, all while offering comprehensive warranty coverage.
As for window glass, it should have:
Low-emissivity (low-E) coating

Double-pane construction

Inert gas fills

High-quality, warm seals
Combined, these components help ensure that your window will provide maximum insulation, making it highly energy-efficient.Getting window replacement right requires sufficient research and careful consideration. However, you can simplify the entire process by making sure you're working with a reliable window contractor. With the right professionals by your side, your window replacement project is off to a great start.